RELINER® / Duran Inc. is a Connecticut based manufacturer dedicated to providing simple, cost effective, durable products for use in the wastewater and construction industries.  Our patented product lines include:
The RELINER® Inside Drop System, consisting of a fiberglass Drop Bowl and Stainless Steel Pipe Support Brackets. 
The RELINER® Modular Manhole Invert Channel System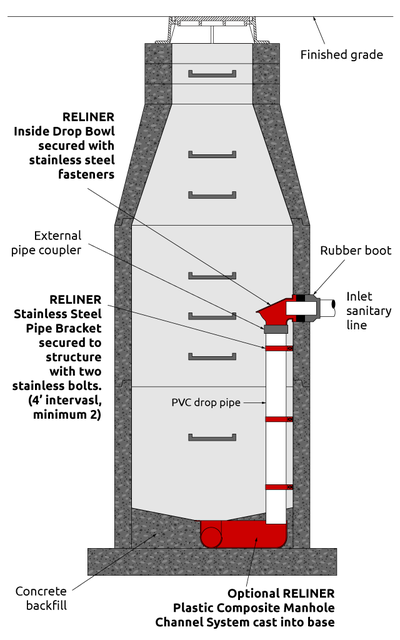 Typical Installation detail showing an inside manhole drop using a Drop Bowl and Pipe Supports with the optional Channel System.
Announcements
To our Valued Customers: We are Open!
Over the past several weeks, the Covid-19 Pandemic has changed the way many companies conduct business.  At Duran Inc, we remain committed to our existing customer service standards, including same day shipping for orders received by 2:30 P.M. EST.  As an essential business, we are maintaining compliance with government mandates and are fortunate to be operating with full staff levels.
RELINER® products are proudly made in the USA and are available at waterworks suppliers throughout the United States and Canada. Individual direct orders are accepted by email fax or phone.
RELINER® products have found widespread acceptance throughout the United States and Canada as the preferred solution to sewer manhole and lift station drops also for manhole invert channel rehabilitation and construction. 
RELINER® Stainless Steel Pipe Support Brackets are extensively used throughout the construction industry to securely mount pipes of almost any size to structure walls.